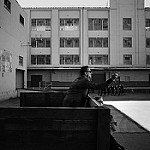 Some recent talks
---
2018 Paris-Jussieu
2017 Catania, Genova, Padova, Workshop "Moduli spaces of curves, Integrable Systems and related subjects" - Institut de Mathématiques de Bourgogne (Dijon), Conference "Periods and Ricci flat manifolds" - Banach Institute (Varsovie).
2016 Mini-course "Derived categories and rationality questions" (Université de Poitiers), Paris UPMC, Mediterranean Complex Projective Geometry (Carry Le Rouet), conference Algebraic Geometry days in Poitiers, Séminaire méditerranéen de géométrie algébrique - Marseille.
2015 Bayreuth, Brest, Italo-Korean Conference in Algebraic Geometry (Cortona, ITA - declined), Poitiers, Lille, Rome III, Angers, CNRS-Paris, Genova, Conference "Fourier-Mukai, 34 years on" (Warwick - declined).
2014 Lyon 1, Nice Sophia-Antipolis, Workshop "Derived Categories" at the Hausdorff Center in Bonn, Strasbourg, Pavia, Dijon, Grenoble, MFO Oberwolfach, Montpellier, Conference "Géométrie Algébrique Complexe" at the CIRM of Luminy.
2013 Workshop "Catégories Dérivées et rationalité" Univ. Lille I, Turin, Florence, Conference "New trends in Algebraic Geometry" - Calabria University, Aix-Marseille University, Thematic Term "The Geometry of Topological D-Branes, Categories, and Applications" at the Schrodinger Center - Wien, Pavia, Barcelona.
2012 School on GIT in Trento, Poitiers, Conference "Derived categories in Dijon@, Zurich, Hannover, Rome I and II, Complutense in Madrid, "Journées sur les Hypersurfaces de Coble et Kummer" (Toulouse).
2011 Nantes, XIX UMI conference - Bologna, "Semaine spéciale de Géométrie Algébrique" - Strasbourg, Conference "Moduli Spaces" at the Newton Center in Cambridge, SNS Pisa, Pavia.
2010 Rennes 1, Rome III, Poitiers, Conference "Géométrie Algébrique Complexe" at the CIRM in Luminy, Marseille.
2009 Conference "North Germany Algebraic Geometry Seminar", Freie Universität Berlin, Humboldt University in Berlin, Freie University in Berlin - Conference Vector Bundles on Algebraic Curves, Rome III, Padova, Florence, Nice Sophia-Antipolis .
Back.